Noun Worksheets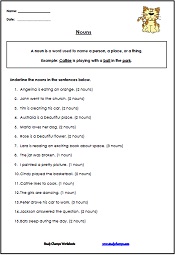 Printable noun worksheets for students for the classroom or homework practice. Learn and identify different types of nouns: proper noun, common noun, abstract noun, countable noun, uncountable nouns and more.
Noun Worksheets for kids
Underline the nouns in the sentences given in worksheet. It is suitable for First Grade, Second Grade and Third Grade.
Common and Proper Noun Worksheets
Underline the common nouns and circle the proper nouns in the given sentences. It is suitable for Second Grade, Third Grade and Fourth Grade.
For More Noun Worksheets Become a Member Today!